Companies from Guatemala, El Salvador, Honduras, Costa Rica and Nicaragua join together as the International Consulting Group – ICG Central America – to work for their clients and their businesses, as an integral part of the team of advisors and advisers, supporting them effectively, without spare effort, in everything that is necessary to reach the goals of the projects and consultancies offered.
For more than 25 years, ICG Central America has been committed to the results and fulfillment of the expectations of its clients; For this reason the company is formed by a solid group of organizations, each specialized in different fields and offering solutions that positively impact the results of companies and businesses in legal, and business over the seas.
GRUPO INTERNACIONAL DE CONSULTORÍA, S.A.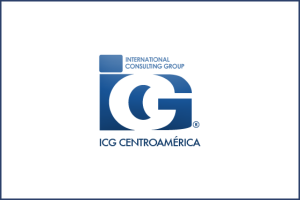 Avenida La Reforma 6-39, Zona 10.
Centro Corporativo Guayacán, Nivel 12, Oficina 1201.
Ciudad de Guatemala – Guatemala.
Office line: (+502) 2334-2380 / (+502) 2362-6128
e-mail: rcanek@icgca.com
Website: www.icgca.com